34th Annual Martin Luther King Jr Memorial Convocation
To listen to the Convocation, please visit KZSC 88.1 FM
---
The annual convocation celebrates the life and dream of Dr. Martin Luther King Jr. by presenting speakers who discuss the civil rights issues of equality, freedom, justice, and opportunity. The convocation also seeks to build partnerships and develop dialogue within the campus community and with the local communities served by the university.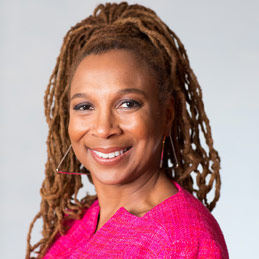 Speaker: Kimberlé Crenshaw
Professor of law at UCLA and Columbia Law School, leading authority on civil rights, black feminist legal theory, and race, racism, and the law.
Date: 7 p.m., Thursday, February 8, 2018
Location: Santa Cruz Civic Auditorium
The event is free and open to the public.
To listen to the Convocation, please visit KZSC 88.1 FM.
Kimberlé Crenshaw
Harriet's Legacy: Navigating Intersectionality in the Age of Trump
Positioned at the crossroads of race and gender, women and girls of color face unique barriers under the burdens of both sexism and racism. This is especially true in the wake of the 2016 election, as discrimination, racialized hate speech and gendered violence have been normalized and, seemingly encouraged, by the White House. As we enter the 2nd year under the current administration, we must reflect back not only on the legacy of Dr. Martin Luther King Jr., but of the Black women who, although often misremembered or outright forgotten, fought for civil rights and equality throughout history. In this lecture, Professor Kimberlé Crenshaw will utilize a historical analysis with an intersectional lens to expose the impact of institutional oppression within marginalized communities' configured networks between identities, i.e. race, gender, and socioeconomic status, a reflect on the contemporary legacy of social justice and the continued struggle for equality in the United States.
Kimberlé Crenshaw, professor of law at UCLA and Columbia Law School, is a leading authority on civil rights, black feminist legal theory, and race, racism, and the law. She is the founding coordinator of the Critical Race Theory Workshop and coeditor of the volume Critical Race Theory: Key Documents That Shaped the Movement. Crenshaw's groundbreaking work on "intersectionality" has traveled globally and was influential in the drafting of the equality clause in the South African Constitution.
Crenshaw is the cofounder and executive director of the African American Policy Forum, a gender and racial justice legal think tank, and the founder and executive director of the Center for Intersectionality and Social Policy Studies at Columbia Law School. She is a leading voice in calling for a gender-inclusive approach to racial justice interventions, having spearheaded the Why We Can't Wait Campaign and coauthored Black Girls Matter: Pushed Out, Overpoliced and Underprotected, and Say Her Name: Resisting Police Brutality Against Black Women.
Tony Hill Memorial Award
Members of the Santa Cruz and UCSC community are invited to nominate outstanding individuals for the Tony Hill Memorial Award. The recipient will be recognized at the convocation.
The deadline for the Tony Hill award nomination has passed.
Our Sponsors