29th Annual Martin Luther King, Jr Memorial Convocation
Please join us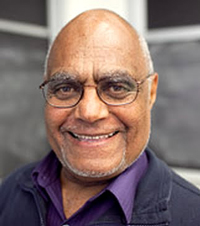 Speaker: Dr. Robert P. Moses - President & Founder, The Algebra Project
Date: Wednesday, February 6, 7:00 pm
Location: Santa Cruz Civic Auditorium
The event is free and open to the public.
The 2013 Martin Luther King Jr. a Memorial Convocation will feature Dr. Bob Moses, Harvard-trained educator who was a leader in the 1960s Civil Rights Movement and later founded the nationwide U.S. Algebra project.
"Quality Public School Education as a Constitutional Right: School Children as Constitutional People"
Past generations of students have challenged and toppled unjust laws and practices around voting, education, politics, and public life. This generation's young people must accomplish a Constitutional Right to a Quality Public School Education.
Tony Hill Memorial Award
Deadline has passed for this year's selection, please consider nominating an individual for the 2014 award.
---
Additional Black History Month Events
Waking up to privilege systems
Wednesday, January 16, 2013 at the College 9 and College 10 Multi-Purpose Room, 4:00 to 5:30pm.
1st Black Cultural Conference:
Bold without Boundaries. Igniting Leaders Through Change
January 31 - February 2, 2013 at Stevenson College. Visit the Black Cultural Conference website for more information.
---
MLK Youth Day

Sunday, Jan 20th 

1-10pm at the Resource Center for Non-Violence (612 Ocean St)
Santa Cruz County Community Coalition to Overcome Racism SCCCCOR, NAACP, RCNV and Barrios Unidos will be sponsoring day 3 of the MLK weekend. It will be a day for the youth come out and get to know their community members, create art and enjoy conscious music. Please pass the word and invite everyone. : )  Below is a run-through of the days festivities. Visit MLK Youth Day facebook page for more information.
Our Sponsors