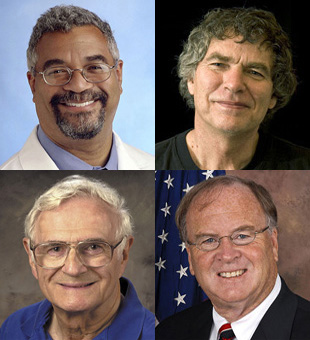 Founders Day 2007
Four outstanding individuals were honored by UC Santa Cruz at its inaugural Founders Day dinner, on October 18, 2007. They are (clockwise, from upper left): Gary Heit, Stanford Woosley, Sam Farr and his family, and Robert Sinsheimer.
Highlights
Fulfilling the Promise
The campus's inaugural Founders Day event, with a theme of "Fulfilling the Promise," took place on the evening of Thursday, October 18, at the Cocoanut Grove in Santa Cruz. This event, open to the public, celebrated UCSC's first 42 years by honoring the four outstanding individuals pictured at left.
At the event, Chancellor George R. Blumenthal presented Gary Heit, Sam Farr and family, and Chancellor Emeritus Robert Sinsheimer, respectively, with the Alumni Achievement Award, Fiat Lux Award, and Foundation Medal. In addition, Stanford Woosley was honored for his selection as this year's UCSC Faculty Research Lecturer. Read story about the dinner event and see photos
Watch video features
Each of the four honorees was the subject of a short video tribute. Watch the tributes for: