Commencement 2019
Please note
For the first time, UC Santa Cruz will be utilizing ticketing for each of the ceremonies on the schedule.
Each graduate will receive 6 tickets to distribute to their family and friends for attendance, as well as 2 parking passes. Unless a guest has a ticket, they will not be able to join us on campus for commencement. We will offer live-streaming for each commencement ceremony so individuals who are unable to join us in person can still cheer their grad on from afar.
Students must register by May 10 to be guaranteed tickets and parking permits. For more information on how to register, visit the commencement checklist. The deadline to register to participate as a non-affiliate (in a ceremony other than the college you are affiliated with) is April 26.
Additional information about Tickets:
Deadline to claim tickets is June 10 at 5pm. After this date, students will no longer be able to access the system to claim their tickets.
Tickets cannot be sold or replicated and are valid only for the ceremony listed on the ticket. Violations of this policy will be referred to the Student Conduct Office.
Children 5 and under will not need a ticket for admission.
Each ticket has a unique QR code which will be scanned at entrance to the venue. If more than one copy of a ticket is printed, only the first ticket scanned will be allowed entry.
Once you leave the venue, re-entry is not permitted.
If you have questions about commencement, email commencement@ucsc.edu
Undergraduate Commencement Checklist
The commencement checklist provides a rough outline of the actions a student must take, in advance, in order to attend and participate in the commencement ceremony.
Commencement is not the same thing as graduation. Graduation is the official acknowledgment that a student's course of study is complete and, with that, a degree conferred. Commencement is the celebration that graduation has, or will soon occur.
More information about graduation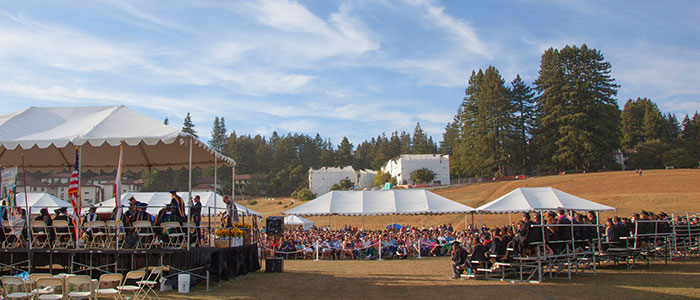 Commencement Weekend Schedule
Friday, June 14
Saturday, June 15
Sunday, June 16
Check with your department or organization to find out about additional graduation celebrations.

Transportation, Parking, and Accessibility Information
Each graduating student is provided only two parking passes for a total of two cars per graduate to park in the designated lot.
Parking permits will be available for pick up starting June 3 and will be distributed by the college/department staff organizing each ceremony. Students will receive additional information about parking permit pick up via email by June 3.
Commencement transportation and parking information
Clothing Recommendations for Guests / Sun Protection
Weather on the UC Santa Cruz campus can change dramatically in a very brief span of time. A chilly, foggy morning may quickly change to a hot, sun-filled day. While rain is unlikely in June, there have been commencements that have experienced unexpected rain — so check on weather predictions and dress accordingly. For these reasons, it is advised that guests dress in layers that can be easily put on or taken off as temperatures change over the course of the day.
Most importantly, flat, comfortable shoes, rather than heels, are recommended due to the soft lawns upon which the commencement ceremonies are held and the terrain of campus. Sunglasses, hats, and sunscreen are recommended.
The UC Santa Cruz campus is deeply committed to sustainability. You are invited to bring a refillable water bottle – one that you will take with you at the end of your time on campus. Complimentary water stations will be available at the commencement sites. The campus prefers that plastic, disposable water bottles not be brought to campus.
What NOT to bring to commencement
Pets
ADA Service animals are the only animals visitors may bring to campus. Pets are not allowed on campus grounds nor can they remain in vehicles for the duration of a commencement ceremony. You will be turned away from campus if you arrive with a pet. There are many kennels, animal day care operations and similar in Santa Cruz.
Drones
Drones are not permitted during commencement ceremonies.
No Smoking
All UC campuses are smoke- and tobacco-free. Smoking, the use of smokeless tobacco products, e‑cigarettes and other nicotine products are strictly prohibited. This policy will be strictly enforced.
No Confetti, No Noise-makers, No balloons
Confetti, loud noise-makers, balloons and other items that produce litter or disruptive noise are not permitted.
Single-Use Water Bottles
UCSC strongly supports sustainability efforts. It is greatly appreciated if you bring a reusable water container instead of disposable plastic bottles.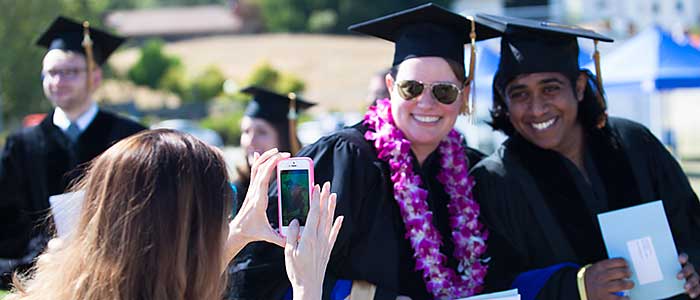 UCSC Memorabilia
The Bay Tree Bookstore will sell souvenirs and flowers at the commencement sites. The Bookstore offers opportunities to purchase class rings, books, and many items to remember this special day.
Once a Slug, Always a Slug
The Banana Slug Network does not end after graduation, it is a life long community. Young alumni & recent graduates make up more than half of our growing UC Santa Cruz alumni population (120,000+ strong). Stay connected, find out more regarding the perks of being a Banana Slug Alum, and be a volunteer to help shape our growing alumni program.
ALUMNI WELCOME BBQ 2019
• Friday, June 7, 2019: 4:00 - 6:00 PM
• Lower East Field
UC Santa Cruz Alumni would like to welcome the Class of 2019 to our community of more than 120,000 individuals who call themselves Banana Slug Alumni!! We invite all seniors to celebrate your accomplishment of graduation. Join us for an afternoon on the Lower East Field for free food, commemorative pint glass, gratitude station, lawn games, photo booth, live music, networking, and more! Register here.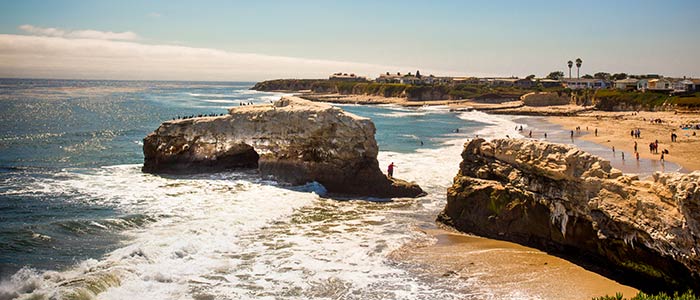 Lodging and Restaurants
The Santa Cruz area offers a wide range of guest accommodations and restaurants. Given the thousands of commencement visitors please plan ahead and make your reservations early, as accommodations and dining reservations are in short supply during this busy commencement week.